| | |
| --- | --- |
| Price: | $11.50 |
| Availability: | in stock |
| Prod. Code: | UTE-00411 |
PC Notebook Laptop USB Temperature Recorder Thermometer

Introduction
USB thermometer is to measure temperature data that plugs directly into the USB port of the computer. It has the ability to record up to 4,000 temperature data points.
Specifications
Power: USB Power Plug
Life: Dependant up on Sample Rate and ambient temperatures
Measure Temperature Range: -10°C to +85°C
Storage Temperatue Range: 0°C to +70°C
Accuracy: ±1°C from -10°C to +65°C
Resolution: 8bit - low res mode (0.5°C)
11bit - Hi res mode (0.07°C)
IP Rating: IP20 - 0 to 95%RH Non-Condensing
Material: ABS
Dimensions: 48mm (L) x 12mm (W) x 6mm (H)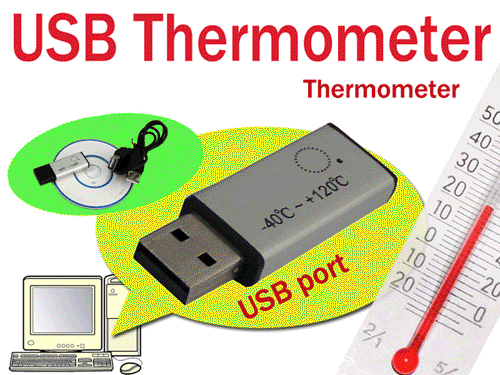 Guideline

1. Install the driver and software in PC.
2. Place the USB thermometer into USB port in PC
3. Double click the icon "USBthermometerR1".
4. Click "recording" and the device will work well.
5. You can click "option" to adjust the recording interval.
6. The temperature data is then brought back to the computer and the stored readings can be recorded instantly.